Pair charged in ALS patient's death allegedly blamed victim's husband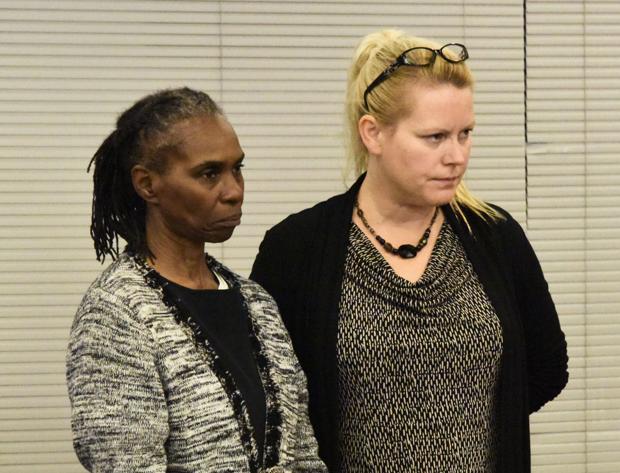 Wanda Nelson, left
, appeared in court last month with her attorney, Deputy Public Defender Lori Pedego. Nelson is charged with murder in the March 2013 death of Heidi Good, a Solvang woman who suffered from Lou Gehrig's disease.
The Santa Barbara County District Attorney's Office alleges that the mother of a woman who suffered from Lou Gehrig's disease conspired, along with one of her three caretakers, to murder her and frame her husband.
Marjorie Good, 89, and Wanda Nelson, 63, are charged with first-degree murder in the death of Heidi Good, of Solvang, who died on March 25, 2013, two days before her 53rd birthday. Her death came eight years after she was diagnosed with the disease, also known as amyotrophic lateral sclerosis, or ALS.
In May 2014, the county Sheriff's Department announced that Heidi Good's death was being investigated.
Marjorie Good — Midge, as she was known to her family — and Nelson, were indicted last month after grand jury proceedings in April in which 33 witnesses testified.
The grand jury proceedings are documented in five volumes of transcripts viewed by the Santa Maria Times at Superior Court in Santa Maria.
"Ms. Good did not wish to die," Deputy District Attorney Cynthia Gresser said in her opening statement to the grand jury. "She was still very comfortable and had a strong will to live."
Gresser said that Marjorie Good was paranoid, and believed that she would be removed from her daughter's will.
Multiple witnesses testified to the grand jury that both Marjorie Good and Nelson claimed repeatedly over the course of several years that they were afraid that Heidi Good's husband, Stephen Swiacki, was going to kill her, and that it was well-known that Marjorie Good did not like her son-in-law.
Another caretaker, Anita Wright, testified that Heidi Good had told her several days before her death that she was going to ask her mother to move out of her house.
"She told me Friday evening, when I arrived Friday evening, that her mother had struck her son and that it was the last straw for her," Wright testified.
Marjorie Good admitted to Sheriff's detectives that she had been asked to leave the home.
Heidi Good's official cause of death was asphyxiation. The District Attorney's Office claims that a toxic amount of the cough suppressant drug dextromethorphan was introduced into her gastric feeding tube, and her ventilator was disconnected, then reconnected before emergency medical and law enforcement personnel arrived.
Nelson said that she left to go to Rite-Aid to pick up an antibiotic for Heidi Good and returned to find her dead, while Marjorie Good said she was working in the front yard.
Heidi Good's 18-year-old son and two of his friends were in a shack in the backyard of the house.
A technician for CareFusion, the manufacturer of the ventilator that Heidi Good relied on to breathe, told the grand jury that data from the machine showed that it was not providing enough pressure for her to breathe for a 30-minute period just before her death and would have been sounding an 85-decibel alarm.
Sheriff's deputy William Hollon testified that both Nelson and Marjorie Good implicated Swiacki when he interviewed them.
A GPS device on Swiacki's work vehicle showed that he was in Santa Barbara or Goleta from approximately 7 a.m. that day until after his wife's death.
Marjorie Good is represented by Santa Maria attorney David Bixby, while Nelson is represented by Deputy Public Defender Lori Pedego. They face arraignment June 18.